---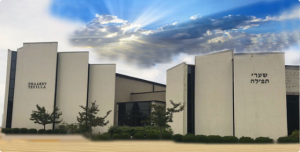 CST dates its history back to 1870 and the formation of Sharah Tefilo on the Indianapolis South Side. Later other congregations were organized and ultimately in 1992, all were merged into CST and established Shaarey Tefilla.
In 1992, a group of forty people assembled in a living room in Carmel, Indiana. We felt that our religious needs were not being met by the Indianapolis Jewish community. We wanted a synagogue where lay members could lead services and read Torah. We wanted Shabbat and holiday services where the congregation would sing the Shacharit and Musaf melodies with kavannah (feeling). We wanted bar and bat mitzvah students who could lead Shabbat services and read the entire Torah and Haftarah selections. These ideals meshed with those of the national Conservative movement, the United Synagogue of Conservative Judaism, and Shaarey Tefilla was "born."
From 1992 to 1997, the lay leadership of Congregation Shaarey Tefilla continued to build upon its vision. Family dinners for Shabbat and holidays became part of the rhythm of congregational life. Junior Congregation was established for children. The first bar and bat mitzvah ceremonies took place. The number of infants and toddlers grew as young couples affiliated with Shaarey Tefilla.
In 1997, Arnold L. Bienstock was engaged as the first Rabbi of Shaarey Tefilla and served until 2010.
In 1999, Congregation Shaarey Tefilla granted equal participation to Jewish women in our ritual life. Women choose to count in our minyanim, lead services and read Torah and Haftarah. Our decision came after a process of discussion and study. Shaarey Tefilla is strongly committed to the observance of halakha (Jewish law), according to Conservative Judaism. We continue to grow in our commitment to kashrut (the dietary laws), Shabbat, and tefilla (daily prayer).
In August 2010, Rabbi Benjamin Sendrow became Shaarey Tefilla's Rabbi. Rabbi Sendrow was ordained in 1992 and has been part of the Rabbinical Assembly since 1997. He has also held chair positions in the Southeast Rabbinical Assembly Council. Rabbi Sendrow was previously at Temple Judea in Fort Myers, Florida. Rabbi Sendrow has taught many classes and workshops for adults, seniors, and children of his congregation as well as the community at large. He is an adjunct professor of Bible Studies at Butler University. He has written numerous articles in a variety of publications including his essay entitled "Here I Am" in the book, "Chicken Soup for the Jewish Soul." Rabbi Sendrow is married to Arlene Sendrow and they have three children, Evan, Sammy, and Rachel.
Join us! We'd love for you to become part of the Shaarey Tefilla family!
---